Music to Comfort & Soothe Your Little One
Adults aren't the only ones who find the holidays stressful. Kids love the excitement of seasonal activities but can quickly become overwhelmed. Creating regular quiet times at home—year round—can help your baby or young child learn to calm themselves and relax. Use the tracks below from A Quiet Christmas to establish a sense of calm and an environment conducive to relaxation.
Ways to Relax
Play A Quiet Christmas album
Find a comfy place to sit and take a deep, calming breath
Gently rock and cuddle together to the music
Sway gently back and forth as you hold your little one in your arms or your lap.
Stand together, face-to-face. Hold your child's hands and guide them into a rocking motion as you sway from side to side. If your little one wants to stand on your toes, that's even better!
Benefits
Rocking and cuddling makes children feel safe, secure and better able to manage the commotion of the season. All this adds up to happier holidays for all!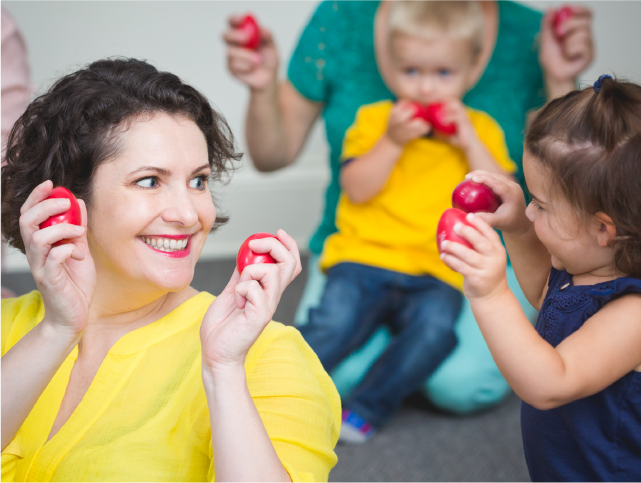 The World's Leader in Music & Movement Eduction
In every Kindermusik class, you're welcomed into a playful and nurturing environment where your little one will have fun singing, moving, playing instruments, hearing stories–while developing social skills, problem-solving skills, pre-math skills and a foundation for reading.

Vroom turns shared moments into brain building moments. Whether it's mealtime, bathtime, or anytime in between, there are always ways to nurture our children's growing minds. Download the free app to your smartphone for daily brain building fun on the go!